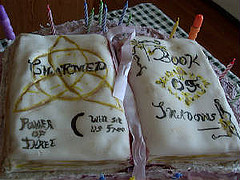 Book of Shadows Charmed Cake
Let's face it! Birthdays are just FUN!!
Whether you are celebrating with a large group or just a couple friends or family, birthdays bring people together. There is something special about celebrating another year in someone's life. The accomplishments the past year has brought and the promise of another year to set new goals and experience new adventures make birthdays quite an adventure!
The birthday cake can be a simple cake or a creation of art!
Flavors from plain vanilla or chocolate to exotic. Surprise your 'birthday person' with a cake that reflects his work, hobbies, or other interests.

These cake ideas can be used for birthdays, wedding showers, baby showers, graduation, or just any special celebration.
View with slide show above or photos below.
Select individual photos below to enlarge.